From fall fashion to fall festivities, ULTERRE is getting ready for the new season with the help of our agents' favorite recommendations. So, continue reading for some fall-spiration…
---
Fall Food & Drink Favorites
Pumpkin Spice is back at Starbucks and in our eyes, that is the true mark of the beginning of fall! One of the best parts of this season is all the goodies that only come around once a year, so get ready for all of these seasonal treats!
---
Cranberry-Apple Casserole
Nothing can quite compare to a casserole baked by Grandma. This cranberry-apple casserole is the perfect fall recipe. Serve it for breakfast, brunch, or even dessert with a scoop of your favorite ice cream on top. Certainly, the versatility of this family recipe is what makes it one worth waiting all season for.
---
Cold Brew Martini from Moxie's Bar & Grill

Recommendation from Cole Enos
Coffee cocktails are a year around staple at some happy hours, but for others, they are a seasonal treat. One of our favorite stops to indulge in this delicious drink is at Moxie's Bar & Grill in Southlake.
Moxie's Bar & Grill Southlake
1472 Main Street
Southlake, TX
---

Recommendation from Michael Karol
Pumpkinator is a big, black, full of spice, full of flavor beer. Originally released in 2009 as Divine Reserve No. 9, it is an imperial pumpkin stout and our answer to how a pumpkin beer ought to taste. It is brewed with a combination of pale two row, caramel and black malts, Cascade and Liberty hops for a background hop flavor, pumpkin for a rich mouthfeel, molasses, brown sugar, spices and dry-spiced to make it feel like you just walked into your mom's kitchen while she was cooking 37 pumpkin pies.
This beer is best enjoyed at 50°F or warmer to bring out the spices and round body. Personally we have found it to be the perfect end to a Thanksgiving meal and some have said it makes relatives more enjoyable too.
A single batch of Pumpkinator will be released around October 15. Additionally, it is available in 22 oz. bottles and on draft.
---
Events & Festivities
---
Weatherford Wine & Whiskey Walk

Recommendation from Cole Enos
Downtown Weatherford, Inc presents Weatherford's first ever Wine & Whiskey Walk! Join in on October 23rd from 12:00PM – 7:00PM for tastings of premiere wine and whiskeys. Downtown Weatherford, Inc. aims for more than simply preserving the charm and history of downtown. They want to make and sustain downtown's relevance as the epicenter of the community, county, and region. A vibrant downtown is an identity that separates Weatherford from other communities.
Located in Downtown Weatherford
---
Texas vs. Oklahoma Football Game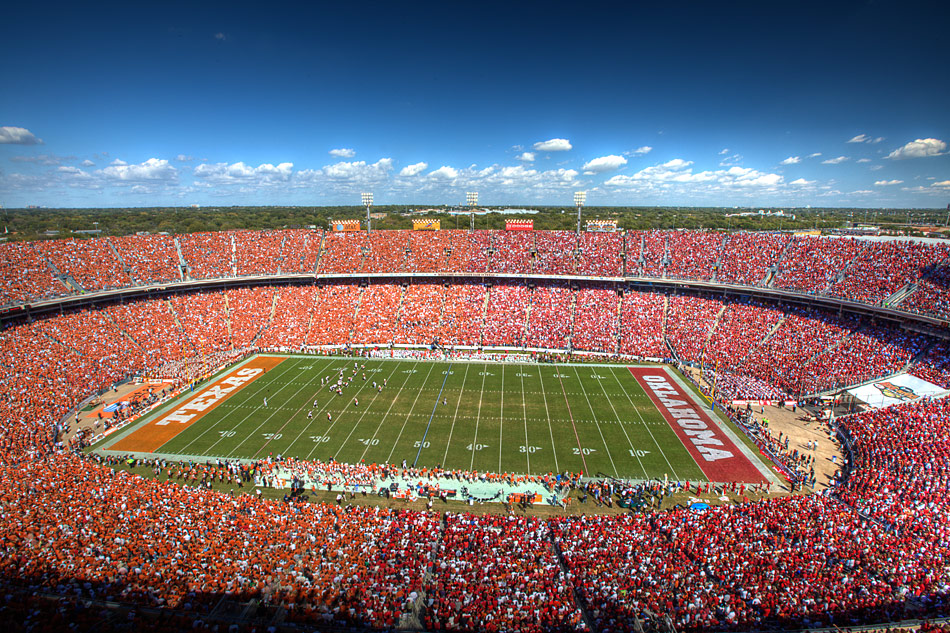 Recommendation from Layne Kasper
One of the best fall traditions in North Texas is the Texas vs. Oklahoma game at the Red River Showdown held at the Cotton Bowl on the Texas State Fair grounds. There's no better atmosphere for an epic college football battle with the stadium cut halfway down the 50 yard-line; Burnt Orange on one side and Crimson on the other, with the smell of fair food drifting into the stadium and the giant Ferris wheel on the horizon.  A Texas tradition unlike any other!
---
Autumn at the Dallas Arboretum

Recommendation from Brandon Latham
Dallas' favorite fall tradition continues to be Autumn at the Arboretum! Beloved annual events such as Bugtopia, the Dallas Gourd Patch, and Holloweekend are being held throughout the month of October. Head to the website for more information about seasonal events.
---
Christmas in Cowtown

Recommendation from Kolby Stewart
Presented by The Junior League of Fort Worth, Inc., Christmas in Cowtown is being held at the Will Rogers Amon G. Carter Jr. Exhibit Hall October 14-17. Come join JLFW for the 15th annual weekend full of shopping, food, and time with family and friends! Shop with our wonderful merchants from all over the country showcasing everything from home goods, jewelry, clothing, children's gifts, and so much more! As much as we love the Halloween season, who is to say October is too early to get into the Christmas spirit?
---
Fall Fashion
Staying on trend this fall may be easier than you think! Our favorite summer colors are seamlessly transitioning into fall according to Pantone. New York Fashion week showed us that we don't have to be afraid to keep the bright colors we wore and loved all summer long a part of our autumn wardrobe. Lucky for us, some of our favorites like, yellow, green, and fuchsia, can be warmed up by pairing them with a darker palette, like black, brown, or grey.
---
Home Décor
Warm Scented Candles
What is better than the smell of vanilla, cinnamon, or pumpkin filling your house on a cold night? When you don't feel quite like baking a pumpkin bread or apple pie, just light a scented candle instead! You can find some of our favorite candles to set the seasonal mood in your home at:
Anthropologie
Trader Joe's
Bath & Body Works
Warm Colors
Another way to warm up your home is with accent colors. Just like with your wardrobe, anything can be warmed up with classic fall colors. Transition your home into fall with throw pillows, blankets, and flowers of these hues to give you that warm fuzzy feeling when you walk through the front door.